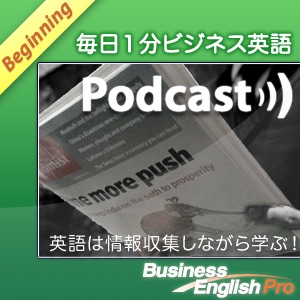 毎日1分ビジネス英語 - Beginning
278

Followers
9

Plays
0

Raised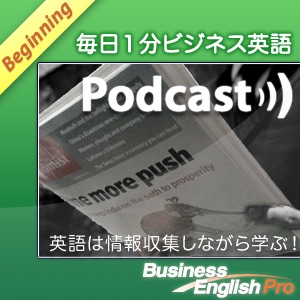 毎日1分ビジネス英語 - Beginning
278

Followers
9

Plays
0

Raised
OVERVIEW
EPISODES
YOU MAY ALSO LIKE
Details
About Us

英語は情報収集しながら学ぶ!一流のビジネス誌 The Economist や The Financial Times を教材にしているから、ビジネス英語と国際情報が一度に獲得できます。1日1本、月から金曜日まで5日間毎日更新です。
Latest Episodes
米国とメキシコの食料戦争
The U.S.-Mexico food fight The U.S. Department of Commerce ended the Tomato Suspension Agreement (TSA) on May 7. This treaty with Mexican farmers lasted for 22 years. Following the decision, there will be a 17.5% tariff on tomatoes, which is likely to be passed on to American consumers.... http://www.wisdomsq.com
グーグルPixel 3a、iPhone Xに対抗できるか
Google Pixel 3a: Can it challenge iPhone X? Google is launching a new smartphone called Pixel 3a. With this new phone, Google wants to compete with Apple's iPhone X.... http://www.wisdomsq.com
世界最速の超特急列車
World's fastest bullet train on the rails The world's fastest bullet train, called the ALFA-X, has begun testing in Japan. ALFA-X stands for "Advanced Labs for Frontline Activity in rail experimentation." The train is expected to go into service in 2030. The train will be operated by East Japan Railway Company (JR East).... http://www.wisdomsq.com
We'll miss you!
If you cancel now, you'll continue to have access to members-only perks until Invalid date. Come back anytime!
Latest Episodes
米国とメキシコの食料戦争
The U.S.-Mexico food fight The U.S. Department of Commerce ended the Tomato Suspension Agreement (TSA) on May 7. This treaty with Mexican farmers lasted for 22 years. Following the decision, there will be a 17.5% tariff on tomatoes, which is likely to be passed on to American consumers.... http://www.wisdomsq.com
グーグルPixel 3a、iPhone Xに対抗できるか
Google Pixel 3a: Can it challenge iPhone X? Google is launching a new smartphone called Pixel 3a. With this new phone, Google wants to compete with Apple's iPhone X.... http://www.wisdomsq.com
世界最速の超特急列車
World's fastest bullet train on the rails The world's fastest bullet train, called the ALFA-X, has begun testing in Japan. ALFA-X stands for "Advanced Labs for Frontline Activity in rail experimentation." The train is expected to go into service in 2030. The train will be operated by East Japan Railway Company (JR East).... http://www.wisdomsq.com
Welcome!
Your subscribe was successfull. It's nice to have you as a member!