Steele Wars : Live Star Wars Call In Show
Steele Wars : Live Star Wars Call In Show
Live Call In Show – Ep 55 : Listener calls on the Rebels finale with King Tom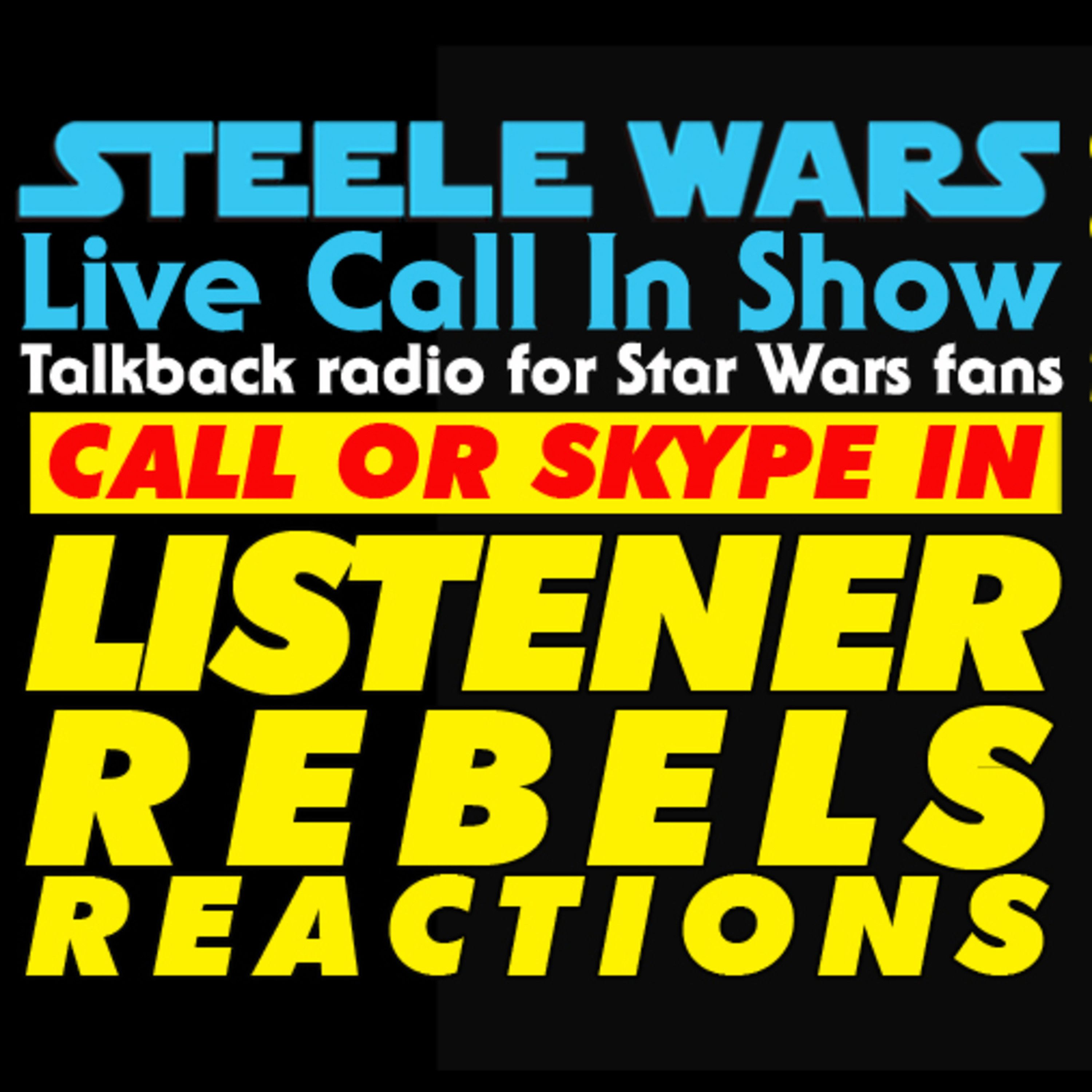 Details
Tom Chansky, King of all podcast contributors, joins us to discuss…
- The series finale of Star Wars Rebels
- A royal decree on the quality of the show's sendoff
- Steele's thoughts on how the show finished its run
- The mysterious absence of our favorite singing droid
- Dave Filoni's ownership of his characters, and what's next for them
- Captain Rex on Endor
- Luke Cruser from the Bad Motivators podcast calls with his thoughts on the episodes
- The Lothwolves running wild
- Luke's high and low points revolving around two fan favorite characters
- Sizzling the upcoming live show!
- Nicholas gives us his view on the finale
- Easter eggs from the episode and flashing back to a Bendu prophecy
- Steele's and King Tom's celebrity status
- Sam Scorsone from New York on how the finale grew on him
- The format of the epilogue
- Thrawn's strategic maneuvers and the vanity of his Star Destroyer
- The Royal Guard
- Jacen Syndulla and Twi'lek gestation
- Melch the Ugnaught
- Looking back on Kanan's blindness
PLUS, IN THE THIRTY-FIVE MINUTE SUPPORTER BONUS SECTION
-  Jeff Wood points out a nod to Tolkien
- The use of Grand Admiral Thrawn in Rebels
- Michael from Australia calls in to talk about the finale
- What happened after Ezra and Thrawn jumped into hyperspace?
- John from Beyond the Outer Rim rings in to talk about Sheev and the appearance of his hologram
- How long of a jump did the purrgil take?
- Downtown Brittani Brown of the Canto Bight Dispatch joins the show with her view on the episodes
- The ultimate moral of Star Wars Rebels
- How satisfying was the entire series?
- Britto sizzles her "never-boring" pod
And much more!
Follow us on Twitter / Instagram: @steelewars
Follow King Tom: @TomChansky
Shownotes: @domlegaspi


MENDO T-SHIRTS & MORE AT STEELEWARS.COM 
---
SUPPORT STEELE WARS ON PATREON FOR SO MUCH BONUS CONTENT
To hear the entire show with bonus section and enjoy 100's of hours of bonus content and help keep Steele Wars in production please consider joining the Steele Wars Patreon Content Club. $3 a month unlocks every peice of Steele Wars audio including live comedy Star Wars film commentaries, our LA Podfest & Star Wars Celebration live shows, Live Call In bonus shows, Making Steele Wars and the full length version of every Steele Wars interview.
---
STEELE WARS LIVE
LOS ANGELES
Star Wars Rebels Finale live reaction panel.
10th March, Saturday 3:30 – Scum and Villainy Cantina, 6377 Hollywood Blvd., Los Angeles CA
TICKETS HERE
Solo reaction panel.
26th May, Saturday 3:30 – Scum and Villainy Cantina, 6377 Hollywood Blvd., Los Angeles CA
TICKETS HERE
MELBOURNE 
Melbourne International Comedy Festival 
3 shows only – Easter long weekend
...